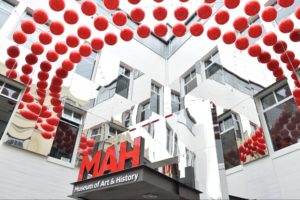 David DeTeso, US Bank, Housing Foundation, Chair
Have you been to the revitalized Abbott Square Marketplace in Santa Cruz yet? Have you been inside the Museum of Art & History within Abbott Square? If not, you are in for a treat as we hold Santa Cruz's premiere culinary extravaganza, "A Taste of Santa Cruz" in this new venue for 2017 on Thursday November 9 at the MAH from 5:30 – 9:00 pm. Booth sponsors will be located within the three floors of the museum serving up the best wine and cuisine Santa Cruz County has to offer. How can you get involved in this exciting event?
The Santa Cruz County Association of Realtors Housing Foundation is currently seeking booth sponsors from within the real estate community to pair up with local restaurants and wineries to make this year's fundraising event one of the best yet! Showcase your food, wine or business to an audience of over 600 event attendees and foodies! This event is going to be the talk of the town, so you will want to secure your space now! . We are also seeking in kind sponsors and donations for our silent and live auctions.
Tickets will be available for sale on Friday September 15th for $45 in advance on EventBrite and $55 at the door.
Celebrating 13 years, this annual fundraising event benefits local low income first time home buyers through the Santa Cruz County Association of REALTORS® Housing Foundation's Closing Cost Grant Program
I am thrilled to be at the helm of "A Taste of Santa Cruz" this year. My goal and that of our committee is to not only host a tremendous and fun event, but also raise a record amount of funds for our grant program. The need has never been greater to keep the social fabric of Santa Cruz County vibrant with a diverse community of residents owning homes in our County. With median home prices reaching over $850,000, innovative homeownership programs are more important now than ever, The Foundation grant program, which helps teachers, first responders and other key neighbors, provides funds that are magnified several times over because the grants are almost always combined with City, State and Federal programs as well a family help and other groups like Habitat for Humanity. The Taste of Santa Cruz has raised over $380,000 for the Closing Cost Assistance Grant Program, placing over 250 families in homes of their own from the community support of this event.
"Abbott Square is the new cultural hub of Santa Cruz and we believe the new venue will breathe fresh energy into the event", DeTeso added. "Join us in raising funds for a great cause and having a fantastic night out at the Museum!"
Please contact Suzanne Schmidt, 831-419-5956 or [email protected], for sponsor booth sign up forms and donation forms. Visit www.atosc.com for event details and be part of the conversation on the Taste of Santa Cruz Facebook page or Twitter @atasteofsc.
The Santa Cruz County Association of REALTORS® Housing Foundation was established in 2003, to bridge the gap to homeownership in Santa Cruz County. The mission of the Housing Foundation is to assist residents in our community realize the dream of homeownership by providing education, financial programs, and by supporting organizations who embrace our goals. Visit us at www.sccarhf.org.