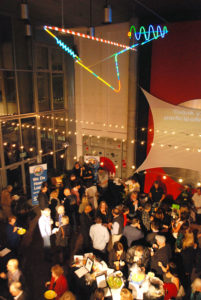 Over 500 attendees enjoyed the 2017 "A Taste of Santa Cruz" fundraiser on November 9th at the Santa Cruz Museum of Art and History and raised a near record amount of funds for the Santa Cruz Association of REALTORS Housing Foundation.
"We were unsure how changing the venue was going to affect the over all experience of the Taste of Santa Cruz this year and we were thrilled that not only did our tickets sell out two days before the event, the first time we have ever sold out of tickets ahead of time, but all the attendees loved the MAH," stated David DeTeso, Chairman of the SCAR Housing Foundation and chair of the fundraiser. "Raising an almost record amount of funds to help local residents stay in our community by providing down payment assistance was the icing on the cake. We cannot thank our sponsors, vendors, volunteers and the community enough. This was truly a group effort and we are extremely grateful."
The funds raised from the event will help fund closing cost assistance grants, which have helped dozens of first time home buyers become homeowners in Santa Cruz County in the past 13 years.
The Taste of Santa Cruz featured 2 local breweries and 15 local wineries, mostly members of the Santa Cruz Mountains Winery Association, for the first time this year, which drew wine lovers from around the county. 17 local restaurants brought their culinary talents to offer tastes to the attendees while sharing their hospitality and good will. Local real estate brokerages and mortgage companies were the main sponsors who provided the table space for both the wineries and restaurants.
The SCCAR Housing Foundation would like to thank these sponsors for coming on board to support this year's "A Taste of Santa Cruz"
Atrium Sponsors: Opes Advisors, Sereno Group Real Estate, Wells Fargo Home Mortgage, Bailey Properties , Bay Federal Credit Union, David Lyng Real Estate, Santa Cruz Lending Group, Chase, US Bank
Garden Room Sponsors: Century 21 Showcase, Everbank, Habitat for Humanity, Intero Santa Cruz, Century 21 M&M and Associates, Stearns Home Loans, XChange Solutions
In-Kind Sponsors: Blue Adobe Mortgage, Century 21 LAD, Coastal Homes Magazine, Santa Cruz Sentinel, Coldwell Banker Real Estate, Monterey Bay Properties, Wells Fargo – Dan Fish
Thank you also goes to the volunteer steering committee for endless hours of hard work, brainstorming and commitment:
David DeTeso-US Bank-Chair
Connie Landes-Sereno Group-Co-chair
Chris Clayton-Sereno Group
Suzanne Schmidt-Old Republic Title
Inez Pandolfi-Century 21 Lad Realty
Will Allanson-Allanson Insurance
Jerry Starr – Santa Cruz Wine Growers Assoc.
Lela Willet -Anderson Christie, Broker Associate
We hope we see you at the 2018 "A Taste of Santa Cruz"!